www.theradiohistorian.org
Copyright 2019 - John F. Schneider & Associates, LLC
---
(Click on photos to enlarge)
---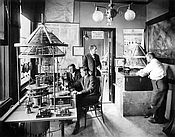 Charles D. "Doc" Herrold began test voice transmissions in 1909. From 1912 to 1917, he made weekly broadcasts from this station at the Herrold College of Engineering and Wireless in San Jose, California. His "arc-phone" transmitter (seen here in a 1913 photo) was a continuous electrical arc suspended in an alcohol bath. (Photo courtesy of Mike Adams)
---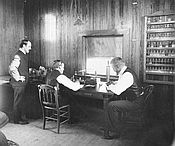 Here are Professor Reginald Fessenden (right) and assistants at his Brant Rock radio station. From this location, Fessenden made his famous Christmas Eve broadcast in 1906. (North Carolina Office of Archives and History)
---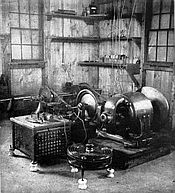 Reginald Fessenden used this alternator to generate the signal for his Christmas Eve, 1906, broadcast. ("American Telephone Journal", January 26, 1907)
---
The Precision Equipment Company operated station 8XB in Cincinnati, beginning in January, 1920. This newspaper advertisement promoted an October 31 phonograph music concert by the station. 8XB became WMH in 1922 and operated until the end of 1923. (Wikimedia Commons)
---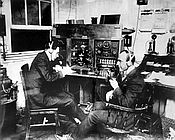 On May 20, 1920, the Marconi Wireless Telegraph Company's station XWA in Montreal broadcast a live concert that was received at a meeting of the Royal Society of Canada in Ottawa. The 500-watt transmitter seen here operated on 1200 meters (250 kHz). XWA became CFCF in 1922. ("Radio News of Canada", March, 1929)
---
---
---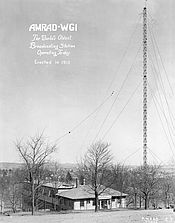 The American Radio and Research Corporation (AMRAD) in Medford Hillside, Massachusetts, commenced experimental broadcasts over its station 1XE in 1919, in association with Tuft's College. The station was relicensed as WGI in 1922, and continued to broadcast through 1925. (Author's collection)
---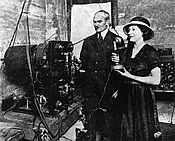 Radio inventor Lee de Forest operated experimental broadcasting station 2XG at High Bridge, New York, beginning in 1916. In 1920, when his station was closed by the local radio inspector, he moved the equipment to San Francisco and opened 6XC, "The California Theatre Station". It made daily live music broadcasts from April of 1920 through the end of 1921. The transmitter seen here operated on 1260 meters (237 kHz) with a power of 1 kW. ("Radio News Magazine", June, 1921)

---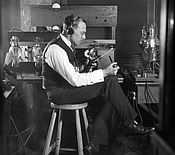 Dr. Frank Conrad operated an experimental radio station from his home in Wilkinsburg, Pennsylvania, beginning in 1916, using the call sign 8XK. During World War I, Conrad worked for his employer, the Westinghouse Electric Company, in the development of vacuum tube transmitters for the military. After the war, he installed a tube transmitter at his home station and started a regular schedule of phonograph music broadcasts in October, 1919. His experiments caught the attention of top Westinghouse management, leading to the construction of the company's station KDKA. (Westinghouse promotional photo)

---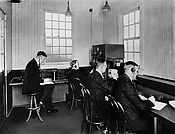 On November 2, 1920, Westinghouse opened its new broadcasting station in East Pittsburgh, Pennsylvania, announcing the results of the Cox-Harding presidential election. That night's broadcast used the temporary call sign 8ZZ, but Westinghouse began regular broadcasts the following week with the permanent call sign, KDKA. (Westinghouse Photo, Author's collection)

---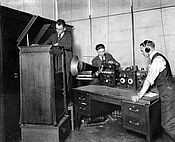 On August 20, 1920, the Detroit News began transmitting regular programs of news and entertainment over its new broadcasting station, using the amateur call sign 8MK. The broadcasts were made from the 50-watt de Forest OT-10 transmitter, seen here. The license was converted to a "Limited Commercial" station classification on October 13, 1921, assigned the call letters WBL. In March of 1922, this call sign was changed to WWJ. This original transmitter is now on display at the Detroit Historical Museum. (Author's collection)

---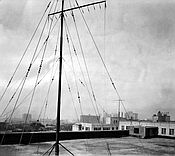 This 1921 photograph shows the first WWJ antenna on the roof of the Detroit News Building. (Author's collection)
---
In 2020, we will recognize the official 100th anniversary of the start of radio broadcasting in the United States. But is that an accurate statement? If the truth be known, by 1920, experimental broadcasting had already been happening around the country for many years. Let's take a look at the country's transition from that early experimentation to formal broadcasting.
---
For many decades, the prevailing myth has been that broadcasting in the United States first occurred on the night of November 2, 1920. According to this general conviction, no broadcasting took place anywhere before that date, but then - in a brilliant stroke of genius - it was suddenly invented that night by the Westinghouse Corporation when its new station KDKA broadcast the Harding-Cox election returns.

Nothing could be farther from the truth!

In reality, by the time that KDKA made its notable debut, broadcasting had already been taking place for a number of years. A few dozen radio experimenters had been tinkering with the notion of broadcasting as far back as 1912. That was the year that Charles "Doc" Herrold started transmitting a weekly program of phonograph records to local ham radio operators in San Jose, California. Except for the period of 1917-19, when all private radio activity was shut down by the government during World War I, experimentation with the broadcasting of news and entertainment to a unseen audience had been taking place on a regular basis in different cities. What began as random transmissions of phonograph music by a few ham radio operators was gradually and continuously refined, copied and improved upon by others over the span of nearly a decade. As technologies improved, these experimental broadcasts increased in regularity. Many of these early pioneers were operating "in the dark", unaware of what others were doing and oblivious to the significance of their efforts. By the time the American government finally recognized broadcasting as a distinct category of station and issued its first broadcast license in 1921, the new medium had become firmly established. And so, KDKA's debut, while an important milestone in this process, was just a stopping point along the way.

DEFINITIONS:

Let's first ask ourselves, what is the definition of a broadcasting station? At what point does experimentation stop and broadcasting begin? According to one scholar's definition, there are four conditions needed:
It must be the audio transmission of the human voice. Radio telegraphy is not broadcasting.

Information or entertainment must be transmitted to a dispersed and unknown mass audience. Point-to-point communication is not broadcasting.

The transmissions must take place on a regular schedule. Programs must be available to an audience at predictable times and on a known frequency. Many early stations operated as either as a one-time special event, or on irregular and unpredictable schedules. That is not true broadcasting.

The station must transmit to a "citizen audience". In order to serve the general public, transmissions should not be limited to the exchange of program content among experimenters using specialized equipment.
This last point is the hardest one to qualify because there were no factory-built consumer radios before the early 1920's. One of the first factory-built receivers available to the public – the Westinghouse RA and DA pair – went on sale in April 1921, and it was just a repackaging of the company's commercial receiving sets. As a result, most listeners built their own (primarily crystal sets), and a few well-heeled individuals used very expensive professional communications gear. At the start, ham operators and radio tinkerers were the primary audience, and there is no single point at which the audience morphed from hobbyists to consumers – it was a gradual process spread out over several years. Many experimenters built receivers for friends and neighbors, and some of these turned into garage operations churning out small quantities of primitive radio sets. Then, in the year 1922, radio suddenly exploded into the public's consciousness. A radio craze swept over the country that year, and more than 500 new stations came on the air. Receivers and parts flew off the store shelves as fast as they could be manufactured. By this time, we can say without too much doubt that there was indeed a "citizen audience".

BEGINNINGS:

The first documented broadcast of the human voice was made by Prof. Fessenden on Christmas Eve, 1906. Transmitting from his experimental station at Brant Rock, Massachusetts, he used a specially-built high-speed 50 kHz alternator to create a continuous RF waveform, and inserted a carbon microphone in the antenna circuit to modulate the signal. His program consisted of a short speech, some phonograph records, and his own violin solo. 1

After the Radio Act of 1912 was enacted, experimental broadcasting stations needed to obtain a special license from the Department of Commerce. (An experimental station call sign began with a number indicating the station's operating zone, followed by an "X" for experimental, and then subsequent unique letters.) Beginning in 1912, Charles Herrold in San Jose, California, was making weekly broadcasts of phonograph music to ham radio operators using a modulated arc transmitter, using the call sign 6XE. Those weekly broadcasts continued until 1917, when World War I forced all private stations off the air.

In New York City, radio inventor Lee de Forest was also broadcasting before the war. At first he also experimented with arc transmitters, but then in 1916 he built his station 2XG in High Bridge, New York, utilizing his own development, the "Oscillon" transmitting tube. He broadcast both live and phonograph music, and -- on November 7, 1916 – relayed the election returns of the 1916 Wilson-Hughes presidential election. (Unfortunately, he signed off at 11:00 PM erroneously declaring Hughes the winner.)

After the United States entered World War I, all private radio stations were ordered off the air effective April 17, 1917. Station operators were instructed to take down their antennas and disassemble their transmitters. The public was prohibited from operating radio receivers. As a result, no private radio activity took place until 1919. Herrold, de Forest, and all other early broadcast experimenters were placed on hold.

But the war effort needed radio men, and thousands of young ham radio operators joined the Army and were sent to Europe, where they were trained to use the very latest in radio technology. Herrold's wireless school alone turned out several hundred radio operators for the war effort. Radio patent restrictions were suspended during the war, and so the technology advanced rapidly without the restraints of patent protections. Higher power transmitter tubes and more stable receiver tubes were soon developed. At the end of the war, these radio men returned to civilian life with an enhanced knowledge of radio.

The ban on radio receiving was finally lifted on April 15, 1919, and the restrictions against transmitting ended on September 26. Amateur operators were eager to rebuild their stations, and many of these began experimenting with voice transmissions and broadcasting. There are dozens of anecdotal stories of ham stations around the country transmitting phonograph records or live music. Transmitting vacuum tubes at that time were hard to come by, but some war surplus tubes made it back into the hands of these operators. A few others, such as 9XM at the University of Wisconsin, designed and built their own tubes.

De Forest reactivated his High Bridge station in 1919, and broadcast the play-by-play results of a Wesleyan-New York University football game on November 8. In early 1920, he moved 2XG to the World Tower Building to gain better coverage, and he invited the well-known singer Vaughn de Leath to sing on the air. But soon after, the New York radio inspector shut him down for relocating the station without permission. Undaunted, he packed up his equipment and took it to San Francisco, where he opened 6XC in the California Theatre, the city's most opulent motion picture house. From there, he made daily broadcasts of live music by Herman Heller's Orchestra from April 1920 until late 1921. The transmitter was then moved to Oakland and was relicensed as KZY, the "Rock Ridge Station", where it continued to operate until the end of 1922.

Back in New York, one of de Forest's employees, engineer Robert F. Gowen, built his own station 2XX at his home in Ossining, broadcasting phonograph and live music each night at 11:00 PM. He operated from December 1919 to May 1921 with 300 watts on 330 meters, and was being heard by amateurs around the country.

For his part, Charles Herrold was unable to return to the air with his now-obsolete arc transmitter. He finally acquired a tube transmitter and began broadcasting again in 1921 under the call sign KQW. The station's call sign was changed to KCBS in 1949.

OTHER EXPERIMENTAL BROADCASTERS:

Around the country in 1919 and 1920, there were dozens of other experimental broadcast stations operating. In Melford Hillside, Massachusetts, regular broadcasts from Tufts University began in November, 1919, over station 1XE. The call sign was later changed to WGI, and the "Amrad Station" continued serving the Boston area until 1925.

In February of 1919, the Bureau of Standards in Washington, DC, began broadcasting phonograph music on an irregular schedule over its station WWV. An audience of listeners gathered in an auditorium to hear the first demonstration broadcasts. By the summer of 1920, these broadcasts were being made on a regular schedule – every Friday night from 8:30 to 11:00 PM on a frequency of 500 meters (600 kHz).

Beginning on October 17, 1919, Westinghouse engineer Frank Conrad scheduled weekly broadcasts of phonograph music over his station 8XK, operating from his Wilkinsburg, Pennsylvania, garage. These broadcasts continued through the end of 1920, and eventually inspired his employer to construct its own station, KDKA.

Also in Pittsburgh, the Doubleday Hill Electric store operated an amateur station, 8ZAE. The store sold radio components, and whenever a salesman wanted to demonstrate his products, they would turn on the transmitter and broadcast some music. Eventually, the operating schedule became more regular, and in January, 1921, the station acquired a new license with the call sign KQV. That pioneer station operated continuously for 96 years until leaving the air in 2017, but reportedly there are plans in the works to bring KQV back onto the Pittsburgh radio dial.

In Seattle, sometime in the fall of 1919, Vincent I. Kraft's 7XC began regular broadcasts of phonograph and live music concerts. In March of 1922 he relicensed his station as KJR, which continues in operation today, 100 years after its humble beginnings.

In Cincinnati, the Precision Equipment Company began transmitting wireless concerts over 8XB in February, 1920. In October, it advertised that "Wurlitzer presents new November Victor Records by Wireless Telephone" on 275 meters (1090 kHz). Then on November 2, station 8XB relayed election returns as they were received from 8ZZ (KDKA) in Pittsburgh. Later relicensed as WMH, that station continued to broadcast until January, 1923 when the company was acquired by Crosley Corporation.

Western Electric Company operated an experimental station from its New York City headquarter building. 2XB was first established to experiment with ship-to-shore communications, but it also began transmitting phonograph concerts in March, 1920. Soon, a second Western Electric station - 2XJ in Deal Beach, New Jersey - also took to the air. The two stations were broadcasting on a nightly basis through the end of 1920. In 1922, the 2XB installation was rebuilt to become the company's flagship broadcast station, WEAF.

On April 1, 1920, the Western Radio Electric Company in Los Angeles received a license with the call sign 6XD. In 1921 the magazine "Pacific Radio News" listed 6XD as broadcasting on 325 meters (920 kHz) two nights a week. In December, 1921, 6XD was relicensed as KZC on 360 meters. It changed its call sign to KOG in February of 1922, but went off the air and was deleted March 9, 1923.

On May 20, 1920, XWA in Montreal, operated by Marconi Wireless Telegraph Company, broadcast a live concert by vocalist Dorothy Lutton. The singular broadcast was presented for a meeting of the Royal Society of Canada in Ottawa, where a receiver and loudspeaker was set up for the occasion. XWA became CFCF in 1922, and then CINW in 1999 before leaving the air in 2010.

In October, 1920, Dr. William "Doc" Reynolds began broadcasting a regular schedule of music from his station 9JE in Denver. The call sign was changed to 9ZAF in 1921, and it then became KLZ in March, 1922.

And there are many other anecdotal reports – too numerous to list here – of other amateur and experimental stations that were broadcasting on a regular basis in different parts of the country.

LICENSE CONFUSION:

When we look back today at this tumultuous period of experimentation, we are easily confused by the question of station licenses. Until 1922, the Department of Commerce, which regulated all radio transmissions from 1912 to 1927, did not recognize "broadcasting" as a class of station. Instead, these experimenters operated under a variety of different license classifications:

But by 1921, the Department of Commerce was becoming concerned that too many stations of these classes were being used for transmission of programs intended for general public, and so in December, 1921, it created a new license class specifically for broadcasting that it called "Limited Commercial". 3 There were just two frequencies on which these stations could operate – 360 meters (833 kHz) for broadcasting "news, concerts, and lectures", and 485 meters (619 kHz) for "weather and market information". This probably seemed like enough spectrum in March of 1922, when there were just 61 broadcasting stations in the entire country, but by the end of that year there were over 500 stations sharing the two frequencies. In the larger cities, stations had to work out frequency time-sharing arrangements among themselves. For example, in Los Angeles, 16 stations divided their time on 360 meters.

Taking the above into consideration, it's impractical to identify the "first" broadcast station based on its class of government license. As radio historian Prof. Gordon Greb once pointed out, we recognize the Wright Brothers as being the first to fly an airplane – and not the first person to be issued a pilot's license.

It's also difficult to identify the "first" broadcaster from this large and poorly documented list of early pioneers. Most of the early tinkerers disappeared from the air within a few months and left only traces of their efforts. A more practical exercise is to identify the "oldest" broadcaster among the stations that are still on the air today, in order to recognize their upcoming 100th anniversaries. But then, some stations began as amateur or experimental stations operating on irregular schedules, and gradually expanded into full-service broadcasters. The majority of these were poorly documented and underfunded, and so we can only guess at what date in their development they could be classified as broadcast stations.

In this author's opinion, there are three significant stations still broadcasting today that can claim to be the "oldest" - WWJ in Detroit, KNX in Los Angeles, and KDKA in Pittsburgh.

WHO'S ON FIRST?

WWJ made its first broadcast on August 20, 1920, using the amateur call sign 8MK. From the beginning, it was operated by the Detroit News as a commercial public service operation –an adjunct to the printed newspaper. It was well funded and professionally operated. At that time, amateur stations were not prohibited from broadcasting, and the 8MK amateur license was the easiest for the Detroit News to obtain. Then in 1921, when new rules forbid amateur stations from broadcasting, a "Commercial Land Station" license was obtained with the call sign WBL. Dated October 13, 1921, this was the 8th such license to be issued in the country. Within a few short months, the call sign was again changed to WWJ. Today, WWJ broadcasts with 50,000 watts on 950 kHz, and has been continuously broadcasting since August 20, 1920.

Meanwhile, in Los Angeles, amateur station 6ADZ started broadcasting to the public on September 10, 1920. The little 5-watt station was licensed to Fred Christian, manager of the Electric Lighting Supply Company. Although it was being operated for the benefit of the company, the license was issued to Christian as an individual. After the December, 1921, rule change, a Commercial Land Station license was obtained under the call sign KGC. Then on May 4, 1922, an additional license was obtained by the Electric Lighting Supply Company under the call sign KNX. For a while, both stations operated separately, although they used the same transmitter and studio equipment. Having two stations was a way for the company to get more shared air time in the crowded Los Angeles spectrum. But eventually, KGC was absorbed into KNX and the former station license was abandoned. Even though it was a new station in terms of its license, KNX was functionally the same station, tracing its origins back to 6ADZ. Today, KNX is a 50 kW all-news station broadcasting on 1070 kHz.

As already mentioned, Frank Conrad had been broadcasting weekly phonograph concerts from his station 8XK in Pittsburgh since October, 1919. The popularity of these programs inspired his employer, the Westinghouse Electric Company, to construct its own station at its East Pittsburgh factory. On October 16, 1920, Westinghouse applied to Department of Commerce for a license to begin regular broadcasting service. They wanted to be on the air in time to transmit the results of the presidential election returns on November 2. Shortly thereafter, Westinghouse received permission by telephone to use the amateur call 8ZZ in case the formal and written license was not received in time. On October 27, the call letters KDKA were assigned, and the station met its goal of broadcasting the election returns, but apparently used the call sign 8ZZ that night. Following that auspicious night, regular broadcasting began from 8:30 to 9:30 PM nightly, now using the KDKA call sign. Today, KDKA is a 50 kW all-news station operating on 1020 kHz.

In an interesting coincidence, Entercom Communications today owns all three of these pioneer stations - KDKA, KNX and WWJ.

FROM KDKA TO THE RADIO BOOM OF 1922:

1921 and the first months of 1922 were a transitional period for broadcasting. A few stations abandoned their experimental or amateur licenses and obtained "Commercial Land Station" licenses with three-letter call signs. And some important new stations came on the air: WBZ in Boston, KYW in Chicago (later relocated to Philadelphia), WJZ in Newark; WEAF in New York; and WGY in Schenectady.

On March 1, there were 61 licensed broadcasting stations in the country. By June, this number had grown to 378, and by the end of the year it had surged to well over 500. It was an amazing time - never before had a new technology been adopted so quickly by the public. Radio's growth in 1922 debatably exceeded the growth of the Internet and cell phones in modern times. It became a point of pride for the pioneers to brag that they had foreseen the radio's mass audience potential. Westinghouse, a major manufacturer of radio equipment, bragged the most of all. Blessed with nearly unlimited resources, the company's publicity department spread the word far and wide that KDKA had invented the art of broadcasting. That information made its way into history books and public lore, and it was generally accepted as fact despite much contrary evidence. Even in recent years, Westinghouse has vigorously defended its "first station" position. In 1945, the NAB (National Association of Broadcasters) was quoted in "Time" Magazine as stating that WWJ had preceded KDKA by ten and a half weeks. This resulted in an angry exchange that ending with Westinghouse Broadcasting dropping out of the NAB for eight years.

In the end, we should probably recognize that no one person or organization "invented" radio broadcasting. It was an obvious application of the radio art that was conceived and developed in parallel by hundreds – if not thousands – of individuals over a period of about ten years. The progressive development of the technology, government regulation, and world politics, all played a role in the timing of its creation and mass acceptance. The most important thing we can do today is to celebrate the amazing century of broadcasting's development and influence. Now that we have broadcasting, the world will never be the same again.


This article originally appeared in the December, 2019, issue of the "Spectrum Monitor" Magazine.
---
FOOTNOTES:

1 There are some who question whether this broadcast actually took place, and few, if any, documented cases of its reception have been identified. See https://en.wikipedia.org/wiki/Reginald_Fessenden

2 WHA at the University of Wisconsin in Madison was transmitting news and market reports as early as 1919, but the information was being sent by Morse code. WHA did not begin voice broadcasts until January, 1921.

3 The term "commercial" referred to a station's operation as a commercial enterprise. It had no reference to commercial advertising.
---
REFERENCES:
A Tower in Babel by Erik Barnouw

Inventing American Broadcasting, 1899-1922 by Susan J. Douglas

Lee de Forest, King of Radio, Television, and Film by Mike Adams

"Time", September 3, 1945

"Broadcasting", October 15, 1945

"Oldest Station in the Nation" by R. Franklin Smith, "Journal of Broadcasting", Winter 1959-60

"Radio in the United States", Wikipedia

"Chronology of AM Radio Broadcasting, 1900-1960" by Jeff Miller

"The First 100 Stations in the United States" by Barry Mishkind

"Post War Experimentation and Development" by Thomas H. White

"Today in Ottawa's History", https://todayinottawashistory.wordpress.com/tag/xwa/

"The Rise and Fall of WGI, the First Station in Massachusetts", by Donna Halper
---
---