"Carefree Carnival"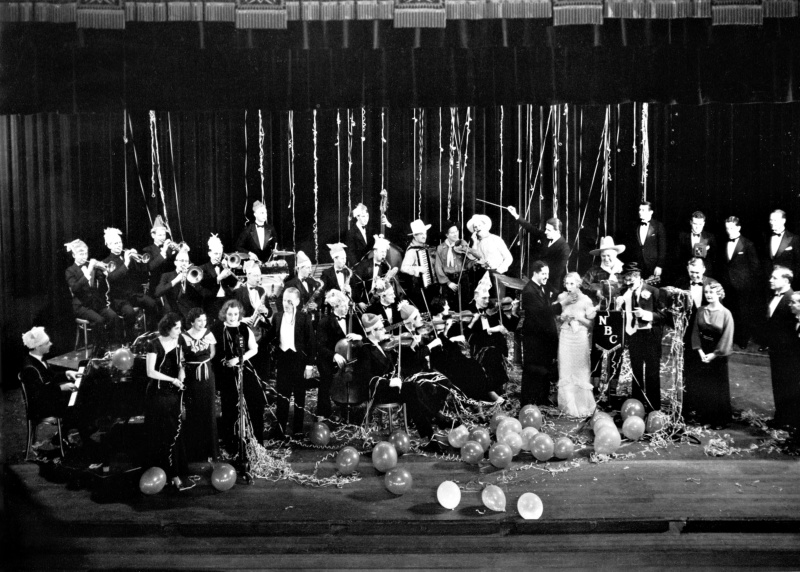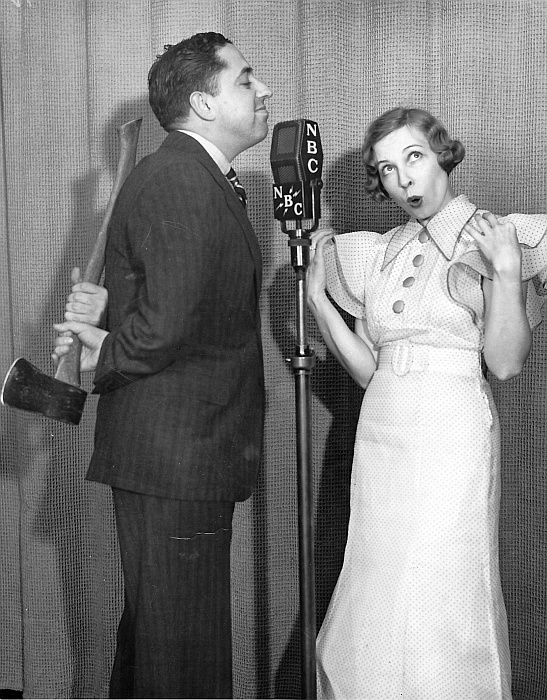 "Carefree Carnival" was a popular program of western music and skits which was heard on the Pacific Coast Network that ran from 1933 through 1936. The program was hosted by western singer Charlie Marshall, and originated from the stage of the Marines' Memorial Theater, performed in front of a live audience.
LEFT: Marshall is behind the microphone, wearing the western hat, and Meredith Willson can be seen conducting the orchestra, 1936
RIGHT: Ted Hollinger (left), host of "Carefree Carnival" prepares to even the score with Helen Troy, "dumb-click-extraordinaire", 1934. Helen Troy is also known for her earlier portrayal of Sally in the syndicated radio program "Cecil and Sally". She moved from radio into motion pictures, and was seen in "Everybody Sing" (1938), "Big City" (1937) and "Thoroughbreds Don't Cry" (1937). She died in 1942 in Santa Monica, California, at the age of 39.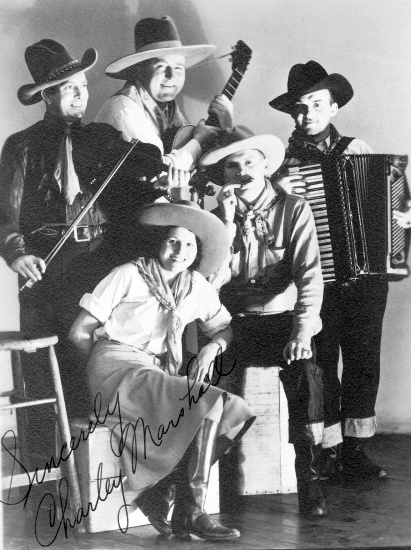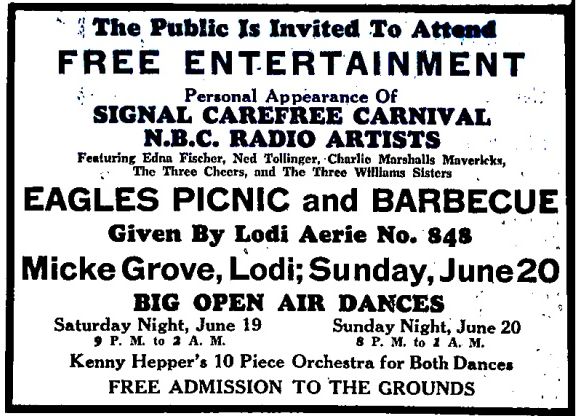 LEFT: Elmore Vincent started in radio at KJR in Seattle in 1929, when he was 21. He belonged to the in-house variety show crew called the "Mardi Gras Gang" and earned a reputation as the sweet tenor "Northwest Shanty Boy," singing lumberjack songs with yodel arrangements. During spare moments he worked up a comedy routine based on his word-mangling "Senator Fishface." NBC, which bought KJR in 1934, loved the act and persuaded Vincent to move to San Francisco to join the "Carefree Carnival". Vincent insisted on opportunities to sing on other shows as well and gained even more exposure. Meanwhile, his Fishface routine was such a hit that he was asked to bring it to one of the earliest TV broadcasts, in 1937.
RIGHT: Charlie Marshall, a regular on the NBC program "Carefree Carnival," led a popular Western music band on KPO in the 1930s. At the time this photograph was taken, the band members included Ace Wright (fiddle), Johnnie Zaper (accordion), Johnnie O'Brian (harmonica) and Mona (girl singer), in addition to Charlie, who played guitar. Other NBC and KPO programs where his band appeared included "Death Valley Days", "Marshall's Mavericks", and "Winning the West".

BELOW: Public appearances by local and national radio stars were a common publicity vehicle in the 1920s and 30s.
---